Professional Classic Eyelash Training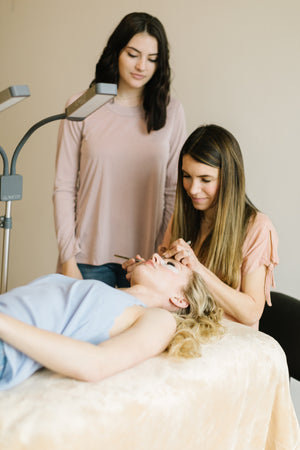 What to expect in an EBL Classic Eyelash Training

Are you looking into the career of eyelash extensions? You first must know that in most states you must be a licensed Cosmetologist or Esthetician to apply eyelash extensions. You also must take a specialized course to certify and teach you how to correctly apply eyelash extensions and all the ins and outs of the trade.

So what can you expect in an EBL Classic Lash Course? First things we will get you certified in 1.5 days. We will teach you everything you need to know and get you started in your career. As well as the in-person training you will receive our online training videos to make sure that you have got all the knowledge you need to become a successful lash artist.

We will provide you with a professional eyelash kit to get you prepared for your clients. The student is able to choose from two kits that we offer, depending on how much stock you would like of professional eyelash supplies. These eyelash products are to be used by the lash artist only as you are the professional. You will learn in depth how to use, store, and make the most out of each product in class. For a full list of what is included in the kits visit our training pages here

For the Classic Lash Course we go over eyelash full sets, eyelash fills, eyelash removals, how to care for eyelash extensions, allergic reactions that can happen, in depth product knowledge, what shapes and styles are best for the eyes, and an intro to online marketing.

In class you can expect to work on applying eyelash extensions to a live model as well as a theory portion. Your instructor will be there to help and guide you along the way. We want to ensure that you are comfortable with applying eyelash extension by the time class is over. 

Our trainers are excited to share their knowledge with you. We would love to have you in an upcoming course. For more information and training dates head to our website here.
Leave a comment
Comments will be approved before showing up.