Qualities to Look for in Eyelash Extensions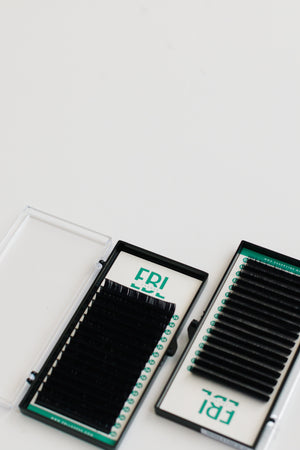 Do you know what to look for when shopping for eyelash extension products for your business? Ultimately quality eyelash extensions will give you the ease of use and reliability. Your clients will love the look. Trust me, the difference is very obvious and your clients will notice. Invest in high-quality eyelash extensions.
Here are a few characteristics to look for when shopping around for eyelash extensions:
Curl: From the natural B-curl to a more dramatic D-curl, a true-to-curl extension is crucial to give your client their desired look. Have fun mixing these, and don't be afraid of specialty curls like L+ and our newest M-curl.
Curl Quality: Quality of the curl is just as important. Look for eyelash extensions that won't lose their curl over time. No one wants straight eyelash extensions, right? It is not normal to have eyelash extensions lose their curl in the tray or on the client. EBL eyelash extensions hold their curl for up to 2 years!
Sheen: Eyelash Extensions will look more natural when they're a matte/ semi-matte finish. It's the most desired look by clients. Shiny eyelash extensions can look very unnatural, and can be uncomfortable for the client.
Hue: Dark and true black eyelash extensions will give your clients a flawless look they'll love. The darkness can vary from brand to brand.
Quantity: You want to get the most out of your investment, right? Make sure the eyelash extensions you are purchasing have full strips. Lash strips that are packed with eyelashes will look dark and dense, not sparse. The fuller the strip, the longer the lash tray will last. In return, saving you money!
EBL Lashes have all of the great qualities. A variety of curls, curl that lasts, the perfect finish, dark and beautiful, and each tray is packed with lots of lashes! There is a reason our lash extensions are award-winning and trusted my lash artists around the world! 
Blog Written by our California Educator: Cecilia Wiscomb 

Shop today www.ebllashes.com Send us an email with any questions hello@ebllases.com Make sure to follow us on Instagram: @ebllases
Leave a comment
Comments will be approved before showing up.