Why Train With EBL Lashes?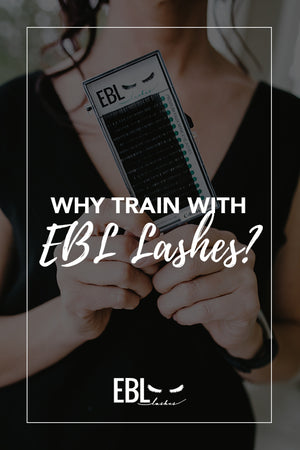 Have you been considering becoming a certified eyelash extension professional? Have you been looking for the best company to help you become one of the most qualified professionals out there? Then EBL Lashes may be the right fit for you.
One of the many reasons to train with EBL Lashes is that you are learning from an award winning artist. Our instructor, Lindy, the owner of EBL Lashes, is a 4 times certified lash artist. She holds a license for Cosmetology and an instructor's license. Our course has an in-depth theory class that will revive you with all the knowledge you will need to start your eyelashes extension career.
We carry all of the best
eyelash extension products
that will help your clients have long-lasting lashes. In your course you will receive a kit with all the products necessary to start your eyelash extension career. You will also receive a manual full of information on eyelash extension application, how to care for your eyelash extensions, and much more.
Taking our class will not only give you the knowledge you need to start your career, but we also train you so that you are ready and comfortable to start applying eyelash extensions on your own the day you leave your course. There is not a course out there that can guarantee this to you other than ours. We have had lots of experience with training, as EBL lashes was one of the original eyelash extension training companies in Utah. We have trained hundreds of lash artist in Utah alone and have helped them build their career. Find out more:
Trainings
If you are ready to take the next step in your career, join the EBL team and let us help you soar!
Leave a comment
Comments will be approved before showing up.