3 Great Reasons to Add Lash Extensions to Your Beauty Routine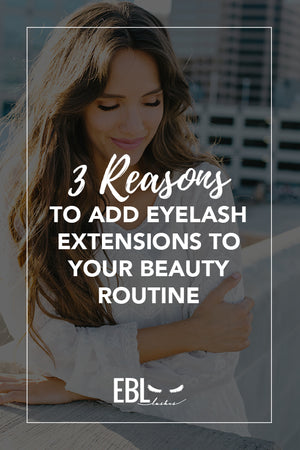 Summer is coming to a close, the kids are headed back to school and fall is around the corner. Translation: the holidays will be nipping at our heels before we know it! Looking your best is more important than ever, and if you are like me, anything I can do to streamline my daily beauty routine is top on my list. Eyelash extensions are always a great way to take care of my appearance while looking good and saving time and often money, in the process. So let's take a look at three great ways lash extensions accomplish this.
1- Less is More - One thing I have noticed after adding lash extensions to my beauty routine is that I actually wear less makeup than before. With lash extensions, I always look polished even if I haven't had time to put on foundation, blush or lipstick. The real beauty behind lash extensions is that they "lift" your eye area and make your eyes stand out. Because they appear darker and fuller than your natural lashes, you can pass on wearing that new trendy eyeshadow or eyeliner because your eyes look great without them. Not only will you save time and money skipping those beauty enhancers, but your skin will thank you as well.
2- Low Maintenance - The only thing you will need to do to maintain your lash extensions are getting fills. Take that time during your fill to relax and take some "you" time. Unlike mascara, eyeshadow and eyeliner, you don't have to apply products on and remove them at the end of the day. The less you have to do before running out the door in the morning and preparing for bed in the evening will give you more time to spend on other things.
3- Self-Confidence - After I began wearing extensions I couldn't imagine living without them--they look natural while making me feel happy about my appearance. I can get the look I want, tailored to my needs and my lifestyle. That means feeling put together wherever I go, feeling confident that I look my best, every single day. As a busy wife, mother, and businesswoman, this frees me up to spend time on the things that need my attention while looking great!
At EBL Lashes, we hope you enjoyed this week's blog and invite you to check out our various social media pages to stay current on all our latest news!
Leave a comment
Comments will be approved before showing up.