3 Tips To Avoid Lash Extensions Gluing Together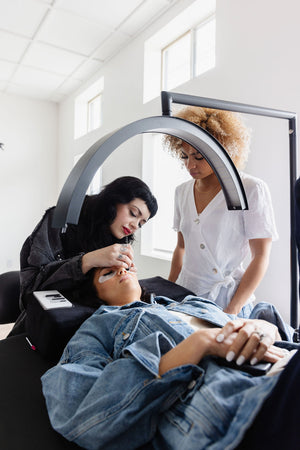 Tips to avoid stickies while doing lash extensions.
Hear from our Seattle Washington Lash Educator issued going to go over how to avoid what is one of the most common mistakes as a lash artist. Molly is our educator in Washington, she has been an educator and aesthetician for nearly a decade! She in an expert in lash extensions, read below for her tips.
When placing the lash extensions there are a few things to keep in mind. Alternate back and forth between the eyes, this will allow the adhesive to dry and not stick those lashes onto each other. Make surfer to not place lash extensions right next to each other. Leave enough space so that when you place one the next one you place is not touching the extension you just did. 
Holding the isolation tweezer in place a little longer can help to avoid "stickies" during the eyelash extension application. "Stickies" = lash extensions that become glued together, which can result in discomfort and an uneven looking lash set. This will happen when either too much adhesive is used, or the lash extension is not isolated long enough after the lash extension is placed. If the tweezer is released too quickly, there is a risk that the natural lash will move and become stuck to another lash because the adhesive is not dried, resulting in lashes gluing together. To prevent this, make sure you are holding the isolation tweezer open long enough after placement of the extension. With this, make sure that you are using a quick drying adhesive. 
Lastly, Using tape can be a helpful tool during a lash extension application to ensure that the lashes are applied correctly. Use a small piece of tape, approximately 1-2 inches in length. Our Pro Tape is our favorite for this because it is gentle on the eye and easy to remove. You will use the tape on the upper part of the eye lid to manipulate and move the eyelid and lash line to help separate those natural lashes, making application easier. 
We hope these tips help you stay away from those lash stickies. 
Leave a comment
Comments will be approved before showing up.
---
Also in News
Are allergic reactions to lash extensions common? It's more likely that you might be allergic to some kinds of eyelash glue, and there are ways around that.