5 EBL Eyelash Extension Tweezer Tips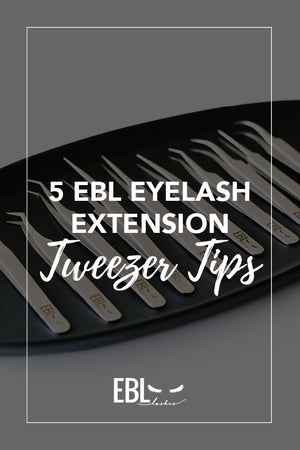 5 EBL Tweezer Tips
Hello, everybody! Lindy here, with some EBL tweezer care tips and how to handle them properly as you work. Caring for your products properly will help maintain their effectiveness for a long time and protect your investment.
#1-
Holding the Tweezer
: When you are working on a client and picking up your lash extensions to apply them to the client's natural eyelash, you want to make sure that the tweezer is parallel to the lash strip.
#2-
Protect your Tips
: Tweezer tips are very delicate, so you will want to treat them with the care they deserve. Always put their protective tips on them!
#3-
Cleaning & Disinfecting
: When you are ready to clean your tweezers, it is best to soak them in Barbicide to disinfect them 100%. This will give you peace of mind and ensure your client's safety.
#4-
Bent Tip
: Uh-oh, did you happen to bend the tweezer tip? Sometimes tweezers can be re-shaped with pliers and a nail file. Just be sure to handle them carefully and tread lightly with the pressure when re-shaping.
#5-
Removing Glue
: Put a little bit of acetone on a cotton pad and wipe your tweezer tips if you accidentally get glue on them. This will help remove the glue, and be sure to thoroughly rinse the tip to remove any glue or acetone residue.
And there you go! Be sure to handle your tools with the care they deserve, and they will serve you well for a long time. If you have any further questions about our products, please don't hesitate to shoot us an email here: 
Contact
Leave a comment
Comments will be approved before showing up.