Learn Eyelash Extensions with EBL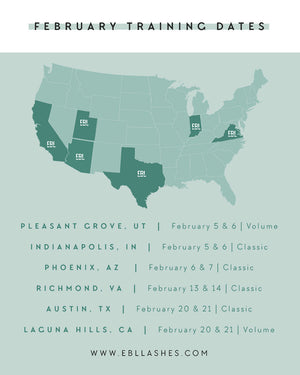 Learn eyelash extensions with EBL. We offer in-depth in person training so that you can be a great lash artist! We will teach you how to apply eyelash extensions, all theory about them, what look will be best only our client, and show to best take care from them, all while using the best products! Look no further to start your eyelash extension career! 
Upon signing up you get to choose a kit of your preference. We always suggest the large kit if your budget allows. It will give you the most product and bang for your buck! We teach you about all of thee products and how to best use them. 
In class we go over all theory on how to apply them. Then we jump start into models. The class sizes are small so that you can get as much time with your trainer as possible. We will lead and guide you with your model throughout the duration of class. Our goal is to get you as comfortable as possible so that when you leave you feel confident to try your new technique on your own! In class we will focus on getting the technique right. We do not want you to focus on the time it takes.
By the end of class you will have your products and knowledge to start your career on the right path! That is not it though. Once class is finished you will have access to our online training videos. It is a great refresher to hop online and see it and hear then info one more time! 
Still want more? We offer free refreshers, come back and take the course AGAIN, free of charge, all because you paid for it one time. 
We offer two categories of courses. New to eyelash extensions all together? Learn Classic lashes, this will teach you everything you need to know in then start. Already know classic and want to lean a new technique? Learn Volume lashes. This can take your sets to a new level by creating a fulling look! Not sure if you are able to do eyelash extensions? We created this post for you to check! 
Leave a comment
Comments will be approved before showing up.