Add Some Color to Your Summer With Disposable Mascara Wands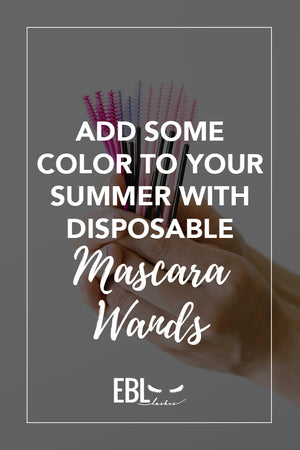 At EBL Lashes, we offer quality eyelash extension products to help make your clients happy while going the extra mile in product safety. It's no secret that we are always testing and checking our products to ensure that we offer 100% satisfaction. Indeed, our goal has always been to give you luxury products, endless support, and help your business to flourish.
In this month's product highlight blog, we're going to review our new
mascara wand
colors! These colorful wands come in packs of 50, and they are disposable so that you use a new wand for each client. Sanitation is key to keeping your client safe and happy. Because the wand colors we have available are limited and always changing, you will want to grab them while you can to offer some fun variety for your clients. Right now, we have summer colors like the light purple brush on a black stick, the white brush on a dark pink stick, the dark pink brush on a black stick, and of course, our sleek black brush on a black stick. So, don't hesitate to mix things up a little!
Tip: Always brush away from the client's lashes while their eyes are closed. In addition to washing their lashes every day, make sure that your client brushes their lashes when the lashes are dry every day, and brushing down in the direction the lashes are applied. Also, if they are going to apply mascara to their extensions, make sure it is oil free. 
Fun Fact: If you have clients that are avid bakers or chefs, remind them not to stick their head in the oven when putting food into the oven or taking things out. Why? The heat can singe lash extensions. As a precaution, remind them to turn their head to the side instead so the lashes don't get the full force of the oven's temperature.
If you have any questions for our team or want more information, please give us a call at (801) 885-1863 or email us here: 
contact
We look forward to helping you with all of your lash extension needs!
Leave a comment
Comments will be approved before showing up.