Colored Lash Extensions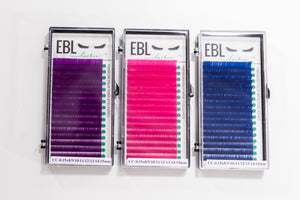 Colored lash extensions can be so fun, but so intimidating to some! We want to share how lash artists are styling their colored lashes. It is so fun to do for an everyday look or for a special event! 
Above Lash Artist Dana mixed 
pink and purple lashes
to make this fun set! She went for an all over colored look and mixed the extensions to create this look!
Dana can be found at @justthegloss 
Lash Artist Jade mixed these fun colored lashes in sections. Starting with the color blue, purple, then pink. She chose to go darker on the inside then using the lightest color on the outside!
Jade can be found @slayed.by.jade
You can also mix a color in with the black extensions. There is no limit to how many you should or should not add. It's truly an at and up to you and your client to decide! 
This set done by Maggie @maggslashes using CC .07 7-11mm
This set is majority purple lashes with some blue mixed in! 
These are created by Brooke @mintlashes 
She used CC. 07 7-11mm Blue and Purple to create this set!
Have fun with colored extensions, the sky is the limit! 
Leave a comment
Comments will be approved before showing up.