Determining the Best Lash Extension Curl and Thickness for a Client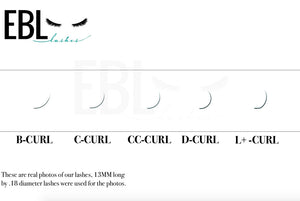 If you have been wondering how to determine the lash extension curl and thickness that will best suit the client you are working on, read on! It can sometimes be hard deciding. We have come up with two very important tips to help you narrow down your lash extension curl and thickness choices:
Ask Your Client If They Wear Mascara
If your client wears mascara, are they more of the type of person who applies 1-2 layers, or more of the person that applies 3-5 layers? If they prefer 1-2 layers of mascara, then they like a more natural look, so choose a thinner diameter. If your client likes 3 or more lash layers, then go for a thicker diameter using thick lash extensions since they prefer a more dramatic look. When choosing a lash diameter, always make sure that the client's natural lashes can support the weight of the eyelash extension you are deciding to use.
Ask Your Client If They Curl Their Natural Lashes
If your client curls their natural lashes, then they will probably like a "C" Curl. The "C" curl is comparable to curling it with an eyelash curler. A "D" curl is a slightly greater curl than your "C" curl, and a "B" curl is slightly less of a curl as well as the most natural-looking eyelashes, overall.
We hope these tips and lash curl chart give you a better idea of determining which lash extension curl and thickness will best suit your client. If you have any questions or would like more information, please give us a call at 801-885-1863, or write to us at extensionsbylindy@gmail.com. We look forward to hearing from you! 
Leave a comment
Comments will be approved before showing up.