Different Curls, Widths, and Lengths for Eyelash Extensions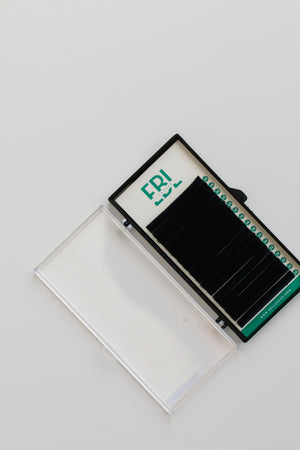 There are many different options when it comes to
eyelash extensions!
Let's break it down for you to help you better understand. We will go over the curls, widths, and lengths that you can use on your clients and which may best for them. 
Let's start with the curls. We've got a curl for everyone!
B- most natural curl. Great for someone that does not curl their natural lashes. 
C- 
Will appear as if you curled them with an eyelash curler. Most commonly used, and a great starter curl.
CC- This is a great curl in between.

D- The most dramatic curl. Great to open up eyes.
L+- A mix between a CC and L+ curl. L+ has a straight base then curls. The curl of the eyelash extensions will not usually match up to the client's natural curl. The straight base is great for someone that has straight natural lashes. 
M— Mixes well with C and CC. M gives a lifted effect without curling back to the eyelid too much. Rather the M Curl draws the eyes away from the face. 
The next option you have to choose for your client is the length.
6mm–9mm- Great for use on the inner eye.
10mm- Great to be used as a trastiton to the longer lengths. This is too long to use on the inside of the eye.
11mm- Used on the inside of the eye or for a natural look all over.
12mm- This can be natural or dramatic depending on the clients features.
13mm–15mm- Will be dramatic, you never want to start a client on a 13mm length or longer if it is their first appointment.

15mm- Be careful using this longer length it can cause damage on someone that has natural lashes that can not support it.

Last but not least is the width; how thick of an eyelash you are going to use. We have a variety of different options! 
.03- Great for creating a Mega Volume look.
.05- Can be used to create a soft volume look or Mega Volume.
.06-One of the most commonly used widths for Volume lashing. 
.07- One of the most commonly used widths for volume lashing. You can use up to 6 of these in a fan if the natural lash can handle the weight.
.10- Great to use on those baby lashes(lashes that are shorter and still growing in) while doing a classic or volume set.
.12- Used for a very subtle classic look
.15- Most commonly used diameter for classic lash extensions 
.18-Used for a thicker fuller look for classic lashes
.20-This is thee most dramatic look you can achieve with classic lashes. Make sure to use it on clients only that can handle the thickness of the lash.
These are all the different varieties there are to choose from when deciding on which eyelash extensions to use on your clients. We hope this has helped you determine which lash extensions may be best for you and your clients. 
Leave a comment
Comments will be approved before showing up.