Eyelash Extension Kit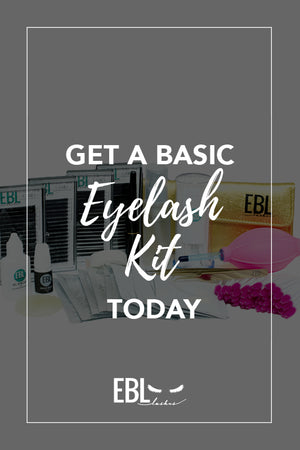 As a newly trained eyelash extension professional, you'll need an eyelash extension kit to get started out. Let's talk about what kits we offer here at EBL. Both of these eyelash kits are great, but let's see which works best for you!


Not sure where to start? This lash kit has all the essentials you need t get started. Basic Lash Kit includes:
1 Primer 20ml
1 Large Jade Stone
1 Magnetic Tweezer Case
1 Mesh Bag
1 Tape
1 (100 pack) Micro swabs
1 Pair of tweezers
1 Adhesive
1 Gel Remover 15ml
1 Small Pink Air Blower
10 pairs Eye Pads 
1 (50 pack) Mascara wands
4 Faux-Mink Lash Trays 
Need a little extra and want to be prepared with it all? Purchase the Premium Classic Lash Kit  
Includes:
1 Large Beauty Case
1 Nano Mister
1 Adhesive
1 Pair of Classic Lash Tweezers
100 Micro Swabs
1 Lash Primer
1 Lash Sealer
1 Gel Remover
20 Pairs of Eye Pads
100 Mascara Wands
6 Classic Lash Trays
2 Tape
1 Jade Stone
1 Small Pink Blower 

Get started on your eyelash extension business today! If you have any more questions on the products available, contact us hello@ebllashes.com we are happy to help! Or check out our website for more products. 
Leave a comment
Comments will be approved before showing up.