Get the 411 on Eyelash Extension Adhesive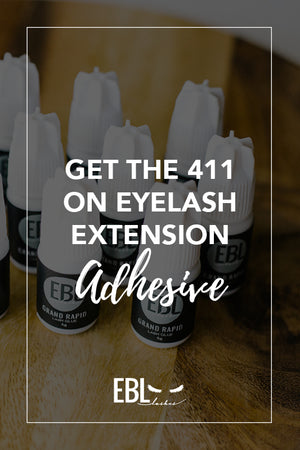 You can find the best tips for eyelash extension adhesive here at EBL Lashes. When storing and using lash adhesive, it can sometimes be tricky, especially when it comes to finding the right product. Follow some of our ideas we've provided below for storing and using adhesive:
Storing Adhesive:
The best place to store your adhesive is in a cool, dark place, closed tightly. Keep it away from direct sunlight or heat, such as a hot car or in front of a window. It can especially get hot during the summer months, so be sure to take it out of our car even if it's in a bag. Some manufacturers advise to store the product in a fridge before opening to preserve it (Please be sure to refer to the manufacture's instruction for the best storage options). EBL adhesives can be stored i the fridge until they are ready to be used and opened. Once they are opened there is no need for fridge storage.
Using Adhesive:
Before using adhesive, shake it for 60 seconds every time you us it. To keep track of when you first opened the bottle, write the date on the side of the bottle. It's best to replace it every 6-8 weeks. After you have given it a good shake, put a pea-sized amount of glue on your Jade Stone (These are great for keeping the glue moist and prevent it from drying out).
Replace your glue on the Jade Stone every 20-30 minutes for best results. It may dry quickly due to air from a window, fan, air conditioner, or heater. It also depends on your area's humidity. These all contribute to how fast your glue will dry/cure.
Feel free to contact us at extensionsbylindy@gmail.com if you have any questions and visit our site, www.extensionsbylindy.com, for the latest updates and to purchase products.
Leave a comment
Comments will be approved before showing up.