Here's How To Clean Tweezers for Lash Extensions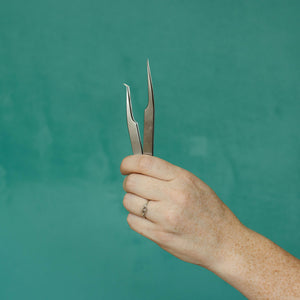 We go through so many tweezers a day as lash artists. With tweezing being a huge part of our daily operations, we must provide clients with the safest tweezers and never skip hygienic preparation of our tools—especially nowadays. Using a clean tweezer on each client is so important. Utilizing a dirty tweezer can result in unhealthy skin infections that will need to be treated. Let's go over how to clean professional eyelash tweezers and how to store them once they are cleaned.
Step 1:
Scrub your tweezers with warm soap and water. This will help get any glue bits that may have accidentally got on them during the lash service.
Step 2:
Rinse the tweezers with warm water.
Step 3:
The most important step your want to soak your tweezers in Barbicide. This is the disinfectant and will disinfect the tweezers. (It is important to note not to soak the tweezers overnight.) 
Step 4:
Once soaking is done rinse them with warm water again. 
Step 5:
Have a container/case labeled "clean tools" that you can put your clean tools in. Also have one labeled dirty that you can drop the used ones into after you have used them. 
With that being said, it is important to have enough tweezer pairs for you to make it through 1-2 days of clients. This way you're always ready for any quantity of clients and won't have to resort to using a dirty pair of tweezers that will result in customer dissatisfaction and increased liability.
While the lash extension process can be strenuous, make sure you never skip out on routine cleanings. It's hard enough to find a pair of tweezers you love, so once you do, clean them properly. For high-quality recommendations, shop our professional eyelash tweezers here.
Leave a comment
Comments will be approved before showing up.