How To Keep Your Lash Extensions Clean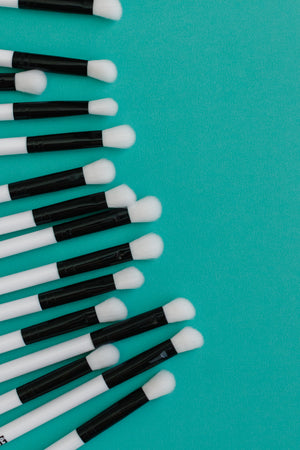 Did you know that you need to wash your eyelash extensions daily? There is a myth that some people say not to get them wet. I am here to tell you that is false! If you are not washing your eyelash extensions properly, you can cause itchiness and inflammation around the eye from the buildup of sweat, dry skin, makeup, and other bacterial factors. On top of that, your lash extensions' quality will decline faster as opposed to routinely cleaned extensions.
Let's go over how to wash your lash extensions and what to use. The most important times to wash your lash extensions are at the end of the day, after swimming, and after working out. The point of washing them is to remove oil, dust, dirt, make up, etc. We do not want oil or make up to build up on them.
Step 1: First wash your face with an oil free cleanser.
Step 3:
Grab your
EBL Foaming wash
and use one pump on each eye, striating with one eye at a time.
Step 4: Working your brush in there in the direction of the lashes. Clean the entire lash line and around the lid and under the eye. Do this gently.
Step 5: Once one eye is done rinse thoroughly with warm water and repeat Step 4 on the next eye. 
Step 6: Once you are done washing rinse your brush well and set it out to dry.
Washing your lashes well will result in beautiful longer lasting lash extensions.
Having lash extensions can be difficult to keep up with, but don't make it harder on yourself. Thoroughly washing your lashes will result in beautiful, long-lasting lash extensions that will turn heads when you walk into a room. Visit our website if you'd like more info on our professional eyelash extension products and training. We can help!
Leave a comment
Comments will be approved before showing up.