How to Set up a Successful Eyelash Extension Business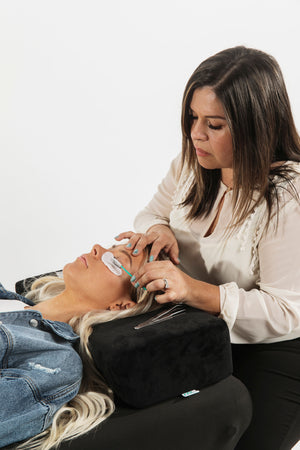 Are you thinking about starting your own lash business? We'd like to share some tips to help you navigate through the process. Maybe you just got your license, or you want to take the leap and start your own lash business. Where do you begin planning?
First: Find out if you need a license. Does your state require an Esthetics, or Cosmetology license? Most states require a lash professional to have a valid license to provide lash services. Some states may not require this license, but they may require something else or an eyelash certification. We have great eyelash courses to help you learn everything you need to know! So, start by finding this very vital piece of information. We also suggest eyelash certification. Taking an eyelash extension course will get you the knowledge and proper techniques to get your clients looking their best!
Second:  Get yourself covered! Look into getting insurance for your business. This is necessary for your protection, the protection of your business, and protection for your clients. When you're insured you'll have peace of mind in the event anything may happen. Research the pricing and coverage with different insurance carriers. You will also need a liability/consent form suitable for you, and your business. This is something your clients will fill out at their first appointment.
Third: City Licenses and permits as required by your city are just as important. Some cities will require a business license, where you can legally run your business. There may be fees associated with this license. If you retail products to your client, and there is a sales tax in your state, you will also need a Sales Tax Permit. 
Fourth: Set up your business entity. You may need to file to incorporate your business, or it may be more beneficial to stay as a Sole Proprietor. There are different factors that your tax professional will take into consideration to help you determine the best route for you. So, consult them before making a decision.
Fifth: Determine your price. What will you charge your clients once you open your doors? This simply comes down to knowing your numbers: business rent, utilities, supplies, equipment, retail, etc. When you know how much your monthly expenses are, you can plan your pricing, and set your business up for success.
We hope this gives you a clear guide to starting a successful lash business. You don't need a big budget to start a lash business, start small, and build up. If you are a beginner start with our Classic Lash Course. 
Written by our California Educator Cecilia Wiscomb
Leave a comment
Comments will be approved before showing up.