Introducing Client Aftercare Cards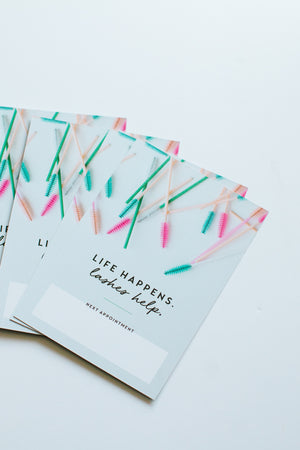 We have got big news and its that we just made your aftercare life simpler! We can not assume that our clients know how to take care of their lashes. It is up to us as the lash artist to tell them how to best care for them. If they are taking great care they will in turn have great retention. 
When your client comes to their appointment let them know how to take care of their lashes-more times than one. Have you heard of the Rule of 7? People need to hear things 7 times before they actually take action. With that being said it's a good idea to let your clients know aftercare more than once. 
Here are some good ideas to tell them about aftercare. Have the aftercare instructions be in the waiver they fill out upon arriving at their first appointment. They generally do read through those. While you are performing the service talk to them about aftercare and the best ways to take care of their lashes. Of course purchase our Aftercare Cards so that they can take the instructions home with them! Lastly send a follow-up email after the appointment is over and see how the client is doing and remind them of the aftercare instructions. 
When clients are coming back continually you can also still remind them of how to best care for their lashes. A lot of the time clients won't know that they are not taking proper care of them if we don't tell them what we see. Telling them in a polite way is always okay. 
Happy Lashing, and remember it is our job as a lash artist to educate our clients on how to care for their lash extensions. 
Leave a comment
Comments will be approved before showing up.