Keep your Eyelash Adhesive Nozzle Clean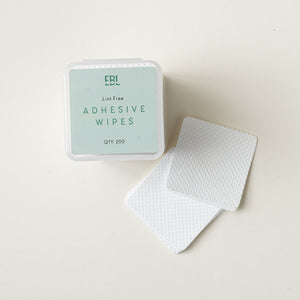 Keep your adhesive nozzle clean with our new adhesive wipes! Have you ever had your adhesive nozzle glue to the lid? Or adhesive pour out of the nozzle and you accidentally left it. Yes, if you are a lash artist you have definitely experienced a headache with that adhesive nozzle to the lid! 
Adhesive wipes are here to save the day! After dispensing your adhesive you can use a wipe to wipe that nozzle, easy as that! Keeping that nozzle clean will keep it from clogging and gluing to the lid. You might ask well why not wipe it with a Kleenex or paper towel? Those are full of cotton and lint. The cotton produces heat when mixed with the adhesive. Other items can also leave lint which your lashes are also attracted too. It is important to stay away from linty products. 
These adhesive wipes can be cut in half to make them last a tad longer. It is also a good idea to use the wipes before taking your adhesive. Before shaking your adhesive remove the lid, once the lid is off fold a wipe into fourths. Use that wipe to hold over the tip of your adhesive then shake shake shake it. The point of this is so that you do not get adhesive in the lid cap which can also build up and glue your nozzle to the tip.
If you like many other lash artist want to avoid a nozzle glues to a cap start making use f our adhesive wipes! 
Leave a comment
Comments will be approved before showing up.