Lash 411 on Eyelash Extension Tape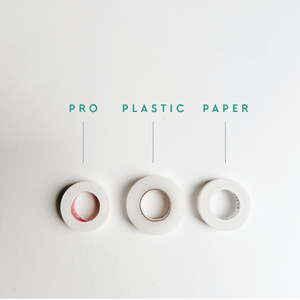 Tape for eyelash extensions, do you use it? What is it used for? The tape is one of the most crucial products, aside from your eyelash extensions. We want to tell you how tape can be used to benefit you through your eyelash journey. The three types of tape that we offer are Pro, Plastic, and Paper.

Let's start off by talking about the Pro Tape. The pro tape is buttery soft and so smooth. It is used to hold down the bottom eyelash extensions. The Pro tape can be used directly on the skin for those that are sensitive to eye pads and comes off very gentle. It is gentle on the bottom lashes when you take it off. Lash artists love this tape because it is very bright white, it helps the lash artist be able to see the natural lashes better.

Plastic Tape is great to use to lift those eyelids off of the eye pad. Or to lift any extra eyelid skin the client may have. With just the right amount of stick this is a great option for the skin!

Paper Tape is our most sold tape. This is all around good for all aspects. Paper tape is used on the Jade Stone to help help the perfect adhesive bubble. It is used to hold down those bottom natural lashes. Also can we used to lit any extra skin or that eyelid off the eye pad a little.
Although eye pads are great and comfortable for the client tape is a great way to have extra security. It is important that all the natural lashes are held down with the tape. It has many other uses to make the lashing experience easier and we hope you find one that helps you! 

Here is a video on how to apply the tape without using the eye pads.
Leave a comment
Comments will be approved before showing up.