Top Tips For a Successful Lash Extension Application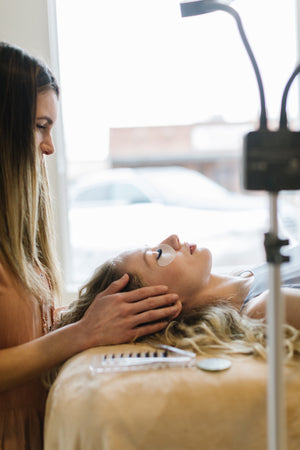 A successful lash application will result in a happy lash artist and a happy client! Applying eyelash extensions can be a challenge for some. I am going to teach you a few tips that may make the application easier for you. With the right training, set up, and products you can have success!

Let's talk about setting up your space. A good work environment can make or break you. Your clients want to feel comfortable in your space. You also want to be comfortable in your space. Must-haves for your eyelash space is an adjustable massage bed, adjustable stool, and great lighting. All of those will make your job easier by helping your back and eyes. For the ambiance, you want to play soothing music, have a nice clean scent, and make sure your space is visibly clean. Have your products set up and ready!

Inform your clients on how to come prepared for their appointment. Simple things like telling them to come with clean lashes (this will help you tremendously). Or if it is their first full set advise them not to wear mascara that day leading up to their appointment. Make sure they understand they will be laying for a long period of time with their eyes closed. It is never a bad idea to tell them they can bring their own headphones. After all, a quiet client results in you lashing quicker!

It is important to use quality products that will work with you. Having quality tweezers that are great with isolating and picking up can really help speed you up. Make sure your adhesive is good for the speed you work at as well as the environment. Lash Trays can come in many different qualities. We have manufactured ours to be your best friend. They are soft to the touch, easy to pick up, hold their curl, and so much more! Investing in quality products will save you many mishaps in the future.

Know your timing and use it with intention. Reserve the appropriate amount of time for each client. Sometimes this can take a few appointments to understand the amount of time a client may need for their fill. Also when you are working keep your distractions to a minimum, this will help you focus on work, and produce great work.

Now that you have had a successful lash appointment its time to re-book! Remind your client at their departure that you would love to get them on your books again! We hope these tips will help you in your eyelash business.
Leave a comment
Comments will be approved before showing up.