What are Eyelash Extensions?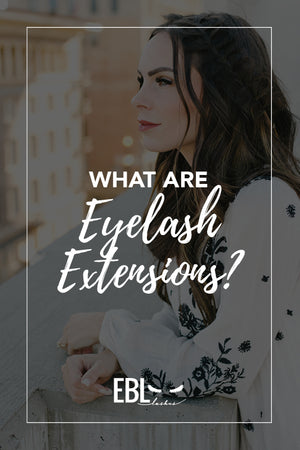 Welcome to Extensions by Lindy (EBL lashes), and our very first blog post for you! We are here to help you help your clients wear their prettiest eyes yet. Most of us love the look that mascara provides for our natural lashes, but it gets tiresome over time and messy to use (and remove) every day. Also, most of us don't have time to put on false eyelashes every single morning.
So what is the solution to make a daily beauty routine easier? Wearing semi-permanent eyelash extensions! Eyelash extensions are single strands of synthetic eyelashes, and just like a natural eyelash they are curved to look like your own. They are carefully applied to each individual eyelash, giving you the look of mascara without the mascara mess. Eyelash extensions can look natural or dramatic depending on the client's desired look.
At EBL we offer two techniques for doing these eyelash extensions:
1) The volume technique
2) The classic technique
Stay tuned for an upcoming future post about the differences between these two techniques. Both techniques are semi-permanent and can last up to six weeks. There is some maintenance required, but not much; usually this means having fills done every two to four weeks. Our eyelash extensions are applied to the client's own eyelashes and fall out when the natural eyelash naturally sheds. The new lashes that grow in are the lashes you would fill. Extensions do not damage the natural eyelashes so long as they are applied correctly and taken care of properly.
Eyelash extensions can add length, thickness, and curl to the extent of the client's desire. They are to be applied by a professional, and the EBL lashes that we use are made of the finest polyester material. Our eyelash extensions hold their curl and cut out the need for not only mascara but eyelash curlers as well. Some people even feel like the eyelash extensions create a bold enough look on the lash line to where they don't even need to wear eyeliner.
Eyelash extensions are designed to make your day easier as you can wake up beautiful and ready for the day with very little to no effort. Clients love them for how easy they are. They can be made into a natural look for everyday wear or a dramatic look for those ballroom dancers!
Leave a comment
Comments will be approved before showing up.