What If Your Client Has an Eyelash Adhesive Reaction?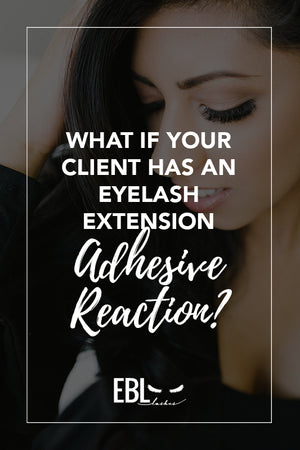 While not a common occurrence, every so often someone has an allergic reaction to the glue used in an eyelash extension adhesive. As a lash artist, you will experience this at least once in your career.
When someone has an allergic reaction, their eyelids will typically swell. The reaction will usually happen sometime up to 48-hours after the extensions are applied. A reaction may occur on both eyelids or even just one, and may also manifest some redness. In most cases the swelling can go down by taking an antihistamine and using a cold compress, and by applying a wash cloth to the swelling site. While an eyelash removal can be done, it is highly recommended to do the removal after the swelling has gone down.
However, for the client's safety, if a client has a reaction, we advise that they consult their healthcare provider to receive the best medical advice. While their healthcare provider may or may not need to see them, it is advisable to let them know the circumstances and proceed with their recommendations. This is important, because while clients have alleviated such a reaction by using an antihistamine and cold compress, everyone is unique, and we are not qualified to provide healthcare advice (*see the disclaimer below).
While reactions are not common, as a lash artist you will want to be aware and prepared in case one does occur. For more information, we invite you to give us a call at [phone], or email us at extensionsbylindy@gmail.com.
*Disclaimer: The information on this site is provided as an information resource only, and is not to be used or relied on for any medical or health-related treatment purposes. Always seek the advice of a physician or other qualified health provider with any questions you may have about a medical condition. Never disregard professional medical advice or delay in seeking it because of something you have read on this website.
Leave a comment
Comments will be approved before showing up.