The Best Professional Eyelash Extensions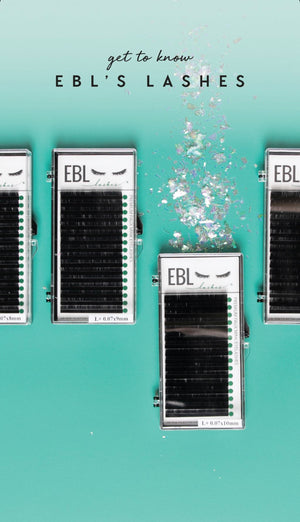 EBL Lashes is voted #1 professional eyelash extensions over and over again! There is a reason our customers are raving about our lashes! As a lash artist you should have reliable products that both you can your clients love! Get to know the many reasons why!
EBL Lashes are soft and flexible! It is important to have lash extensions that are flexible. If the lash extensions are too stiff it can pop right off of that natural lash. When extensions are too stiff they are not able to bend and move with the natural lash freely. The added flexibility makes the lash soft to the touch for your client's comfort! They are sure to feel the EBL difference.
Another major benefit If you are a volume lash artist you will enjoy how easy our lashes can fan. Whether you fan on the strip, a sticky dot, or use your fingers to pinch our lashes will work for you! If your products are not working with you your work can end up being harder than it needs to be. Here is what one of our customers has said 
"These lashes made learning volume so much easier for me,
Still using them a year later!" -Bliss Lash Studio 
Our curls LAST, if you have ever used lash extensions and the curl went flat you know this is a big deal! We guarantee the shelf life of our curls for 2 years. Lashes that go flat are a thing of the past and you should not have to worry about that. We also offer a wide range of curls. You can enjoy B, C, CC, D, L+, and M curl! The options are endless.
Let's recap all the EBL benefits! Soft, flexible, easy to fan, and curls that last. It's no wonder EBL is used and loved by lash artists around the world. Shop our lashes
here.
Questions? Email us hello@ebllashes.com 
Leave a comment
Comments will be approved before showing up.