Best Eyelash Tweezers to Purchase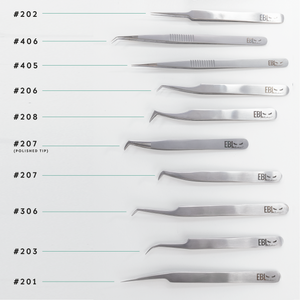 Finding the right eyelash tweezer can be tricky. Are they best for classic? Are they best for volume? Which are best for isolation? We are here to solve the mystery of the professional eyelash extension tweezers that are right for you! 
If you are a lash artist and are looking for the perfect volume tweezer, look no further. We have got 3 great options for you! Let's start with the 207 tweezer, our most sold tweezer. It is our a round boot and is great for picking up those small 2D fans all the way up to mega volume fans even those 15D. The 207 tweezer comes in a matte finish, as well as colored versions, and a polished tip version! Next up is the 208 boot style tweezer. This is a longer tip tweezer than the 207. It is also great for all volume pick up. The 208 comes in a matte finish as well as colored options. Lastly we have the 203 tweezer, which is very versatile as it acts as a good classic pick up, volume pick up, or isolation tweezer! 
Lets move onto classic lash pick up and isolation tweezer options. Using curved or straight tipped tweezers for classic is a total preference and what you are comfortable with. If you prefer a curved tweezer for pick up or isolation we have the 406, 306, and 203 that are curved options. They have varying lengths and differences in their curves. Each are different to meet the artists preference. If you prefer a straight tweezer for pick up or isolation you can try the 405, 302, 301, 201, 202. 
Lastly, we have isolating tweezers. It is important to find a light weight and very fine tip isolation tweezer. 
Professional eyelash tweezers will make all the difference for you as a lash artist. Having a good tweezer can make you a quicker lash artist. Don't let tweezers slow you down. We promise our tweezers will work best for your career! Shop our tweezers today here. 
Leave a comment
Comments will be approved before showing up.