Are You Placing Eye Pads Correctly?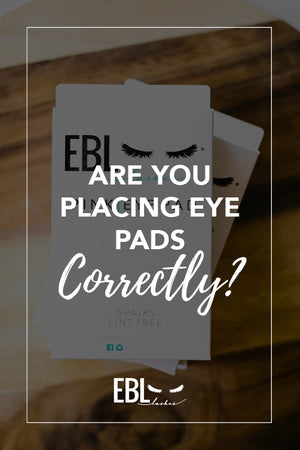 If you or your clients have problems with your eyepads sticking, we are going to cover this dilemma in today's blog. Have you ever tried putting eyepads on clients and they just won't stick? If this has happened to you, where no matter which eyepad you try, or you switch the tape and they still will not stay in place, or they are lifting in the corners off of the skin, you are not alone!
If you are having this problem we are here to tell you the solution. The secret is this: make sure your client comes to their lash appointment with no sunscreen, moisturizer, or cream foundation under the eye. Always have your client wash around their eye area and the lashes so that you can start with a clean surface--allowing the eyepads to stick. Try our eyepads today: click
here
But what if the eyepads are still not sticking to the skin? You can try using a little bit of witch hazel on the underneath of the eyes which should do the trick, allowing your eyepads to stay on without lifting. So when applying your eyepads make sure that you have the client wash beforehand and then apply witch hazel if needed. You want to make sure that the eyepad is wrinkle-free when it is placed on the skin, and that the eyepad is placed under the lash line, and not poking up into the natural lashes. And there you have it!
Please contact us with any questions at extensionsbylindy@gmail.com.
Leave a comment
Comments will be approved before showing up.