3 Basic Lash Looks To Create With Extensions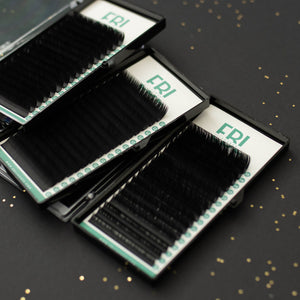 When you're a lash artist, the sky's the limit. There are so many options! So what should you do for your client? One place to start is with these three basic lash looks to create with extensions.  From there you can add your own artistic ideas to them. These are the foundation, and it is up to you as a lash artist to expand from there!
One thing I always like to check is what does the shape of their natural eyelashes create? From there you can decide if you want to stay with that or create something different.

Natural Eye Lash Design
The first design, and the most common, is a "Natural Eye Design." That is when the shortest length is on the inside near the nose and the longest in the middle of the eye. You will then go shorter again toward the outer part of the eye. This is a versatile look that can be worn on multiple different eyes. What is flattering about this look is that the outside of the eye has shorter lashes, which can give some lift with the longest point being in the middle.
Cat Eye Lash Design
Next—and a very fun option—is the "Cat Eye" look. This is best for clients who want lift near the outside of their eye. To avoid droop on the outer part, though, you can add a few shorter lash extensions just at the end of the eye. This will push long ones up and still give it that cat eye shape.
This is great for those with close-set eyes. It can help draw them apart. For those with round eyes this can even help create an almond eye look. We would never want to create a Cat Eye look on someone that has wide-set eyes. That would draw their eyes further, making them look wider. 

Textured Lash Design
Lastly, we have a textured design. When you're creating texture, the options are endless! You can create texture by adding in longer pieces in a shorter section of a map. This will give a wispy textured look. Don't be afraid to play. The definition of "texture" in the lash world is using multiple lengths and curls. 
Remember that you are the artist. You are creating magic. You will develop your own lash looks, and that will keep clients coming back. You can start with these three basic lash looks and build on them until you've perfected your own lash designs. 
Check out our selection of eyelash trays, so you have everything you need on hand. Reach out to us with any questions you may have at hello@ebllashes.com. Or to learn more about lash extensions, check out our training courses!
Leave a comment
Comments will be approved before showing up.