The Difference Between a C Curl and a D Curl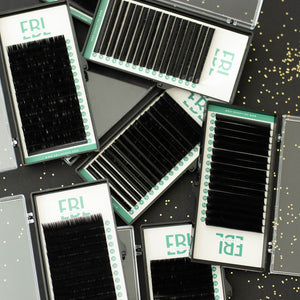 There are a few different curl options when it comes to eyelash extensions. You will want to have a few different curl options so you can choose which curl will best suit your client.  Let's take a look at two of the most popular today. What's the difference between a C curl and a D curl? It is important to understand so you are best educated on what curl to put on your client. 
 C curl is one of the more relaxed curls. We say that our EBL C Curl is slightly less than if you curled your natural lashes with an eyelash curler.  
 It is a great starter curl. Keep in mind that it can look longer than other curls as it is slightly more straight. C Curl can be a great match for someone with deep-set eyes. For you as a lash artist, C Curl can be easier to fan for volume fan making. 
 D Curl is the most dramatic curl that we offer. It gives great lift if you are looking for extra va-va-voom. I would not recommend starting a client on a D Curl as it may be too dramatic for most on their first time. If someone has worn extensions before they may be okay with a D Curl or if it is what they requested. D Curl is great for a client wanting more lift and this curl can do that! 
 Mixing curls is okay and pretty common, so it sparks your interest. That is an option too. Mixing curls will give more texture to a set, and less of a "perfect" look. When mixing a C and D Curl, I would recommend to do a C on the inner part of the eye then gradually go toward a D Curl to give the client some lift on the outer part of the eye. 
 Wrapping up, there's one main difference between a c curl and a D curl. A C curl is more natural and a great starter curl for a client's set. D Curl is more dramatic and will help create that lift—it is more dramatic than if you curled the natural lashes with an eyelash curler. 
 Most important, have fun. Lash extensions are an art, and you are the artist! Browse EBL lash products for superior, professional results. And contact us with any questions.
Leave a comment
Comments will be approved before showing up.