5 Important Tips for Better Lash Retention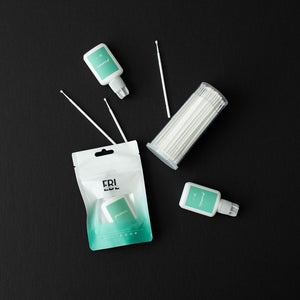 Did you know that one of the biggest reasons a client won't come back is because of poor lash retention? Customers want their money's worth, so your lash extensions need to be as long-lasting as possible. Let me save you some trial-and-error with my five most important tips for better lash retention. 
1. Cleaning Lash Extensions Matters 
One of the most important things to remember is that lash extensions do not stick to dirty lashes.
If a client comes in still wearing mascara, that client's lash extensions will never last. Their retention will be horrible. When a client comes with mascara, you will have to use a remover, then apply lash extensions. The remover will result in poor retention. It is important when scheduling the client to tell them not to wear mascara that whole day of their appointment. This should be something that is included in the reminder call/text/email, or however you communicate with your clients. 
Once the client comes in, washing their lashes is so important. You need to start with a clean surface. We recommend washing with Foaming Lash Wash and a cleansing brush. These two combined will help get in-between those tiny lashes and remove any dust, oil, and more that will stand as a barrier between your lash extension and natural lash. 
Washing lashes and applying a prep solution are two different steps.
Primer is considered a prep solution. It is great to use on oily clients even after a good cleanse. If they are still oily, I would recommend priming. Primer is not a one-size-fits-all. Use it sparingly.
 2. Adhesive Matters
Make sure you are using a fresh adhesive. Once it is opened you have 6-8 weeks to use it, depending on how often you open it. The more it is exposed to air—opened and closed—the sooner it will weaken your adhesive.
Make sure to use enough adhesive; many artists use too little. I get it. Adhesive can be scary. No one wants to glue someone's eyelashes together. We say about two "beads" is good. but also keep in mind the thickness and length of their natural lash. 
The smaller and thinner their natural lash, the less surface area you have for adhesive.  
Humidity does and will affect your adhesive. The higher your humidity, the quicker your adhesive will cure. Adhesive is attracted to moisture. 
3. Curls Matter 
If your client has very straight lashes, what do you think will happen if you put a D Curl on their lashes?
The lashes will most likely not last as long because there is not enough surface area that is meeting. If you find a curl that matches their natural lash better, retention will be better. More surface area is connected. 
4. Application Matters 
Good retention will result from good application. You want your bases to be flush with each other. (Think laying on top of each other.) Poor placement = poor retention. Poor placement can also cause pain, which again results in a loss of a client. 
5. Aftercare Matters 
It is your job as a lash artist to teach aftercare. Teach your clients how to take care of their lashes. Most of them will have never had lash extensions before. 
Keep in mind these five important tips for better lash retention, and you'll steadily start building a loyal clientele. And don't forget that quality lash supplies will make all the difference. Shop at EBL Lashes for all the lash extension products you need. And if you have any questions, contact us for help!
Leave a comment
Comments will be approved before showing up.