4 Best Volume Tweezers for Lash Extensions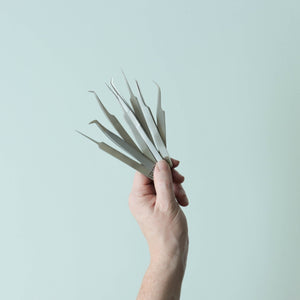 Volume lash tweezers are not a one-size-fits-all. You will eventually have a preference on what you like best—but that takes trial, error, and experience. I wanted to share what I've discovered as an award-winning lash artist. I've narrowed it down to the four best volume tweezers for lash extensions. 
Tweezers come in different shapes, thickness, lengths, colors, and more! Having a tweezer that is not working well is so frustrating. We want to help you choose a volume tweezer that makes the process easier for you.
You will find that volume tweezers all have one thing in common. They will be curved at the tip in one shape or another. The curve will work best for you while picking up the fan. Trying to create volume fans with a straight tip tweezer will be next to impossible.
Here are the tweezers we recommend for Volume!
Volume Tweezer #203
This tweezer has a nice curved pick that looks like a "J" at the tip. It is great for Mega Volume and Volume lash extensions.
Volume Tweezer #207
This tweezer was our first favorite. We call this a boot-style tweezer. It is easy to use for volume and the boot is a rounder shape.  
Volume Tweezer #208
This tweezer has a boot is more square compared to the 207. It's also longer, making it great for Volume and Mega Volume. 
Volume Tweezer #209
This tweezer is sort of a mix between the 207 and 208. It's as if they had a baby! This tweezer also features a longer boot. 
In our experience, these are the best volume tweezers for lash extensions. We're sure you'll find your new go-to tweezer among these. We recommend that you order different styles to test them out and see which one is your favorite! 
Explore EBL's selection of tweezers to compare boots. For more info or for any questions, please contact us. We're here to help!
Leave a comment
Comments will be approved before showing up.