4 Effective Ways Lash Artists Can Build Clientele | EBL Lashes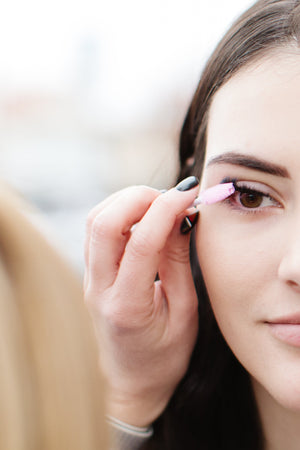 4 Effective Ways Lash Artists Can Build Clientele
If you are a new lash artist or looking to get fully booked, let's talk about clientele building. There are a variety of marketing tools you can use that don't cost a thing. I've been there. Building a lash clientele can be easier with this guidance. 
The main part of building a clientele is that you have to be willing to put in the work. You may stumble along the way, but you have to keep going. Here are four effective ways lash artists can build clientele. These techniques took me from not booked to fully booked!
1. Network
I recommend going out to places you think your clients may be! For example, a nail salon, tanning salon, or a high-end gym. At these places, offer the manager or front desk employee a discount on her lash extensions in exchange for sending referrals. The goal is to get their customers coming in to ask where they get their lashes done and have the client sent your way! You can also look for models or bloggers to put lash extensions on. Attend small events in your area and network. Let your community know you are a lash artist and looking to build clientele. Don't forget that you're your best model, too. 
2. Utilize Social Media
Social media will be your best free form of advertisement. When I started out, I posted, "The first 10 people that contact me for an appointment will get 50% off their lash set." This will get people in your door. It will also get you practicing, in turn making you a better lash artist! 
Another lash promo idea is to make a specific business account and post your service. Let people know what you do. This is where you can show off your work, and show clients how you can transform them. Most importantly, be consistent on your social media. Have the photos you post be clear, bright, and easy to tell what you do.
3. Offer Referral Rewards
Everyone wins with this lash marketing idea. It can be done in a few different ways. I love to offer a discount off a client's next service for sending a referral. Show them your appreciation. Remember that happy clients walking around with lash extensions on is your best form of advertisement. 
4. Cherish your Current Clientele 
Take good care of the clients you have. Make sure you are always doing your best work. Remember to keep your environment professional and to act like the accomplished lash artist you are. Be responsive and accommodating. 
These are a few effective ways you can build clientele as a lash artist. We hope these help you grow your business as you gain experience and sharpen your skills. EBL Lashes is here to support you, whether you need lash supplies or training. Questions? Please feel free to email us at hello@ebllashes.com.  
Leave a comment
Comments will be approved before showing up.