Which Lash Curl Is Best for Your Client's Desired Look?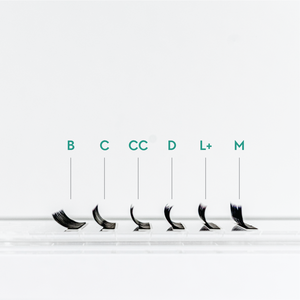 Which Lash Curl Is Best for Your Client's Desired Look?
When there are so many lash curls to use, how do you decide which is best for your client? I want to make that easier for you today by breaking down each lash curl type. At EBL Lashes we carry a wide variety of lash extension curls so that you can choose one that best suits your client! 
 B-curl lashes are the most natural. B curls are great for someone who wants a very minimal amount of curl. They're also ideal for someone with larger eyes who wants them to look less dramatic. We always recommend B curl on more mature clients as well!
 C curl lashes are the best starter curls. It will appear as if you curled your client's natural lashes ever so slightly with an eyelash curler. This can draw their eyes out and even the client out if they have a more round face. Take note: C curl lashes can tend to look longer than others curls, as they're slightly more straight.
CC curl lashes are currently our best seller for lash extension curls! They're the perfect blend of C and D curl lashes. CC curls give the perfect lift. Everyone loves them.
D curl lashes are the most dramatic. Can you say drama, mama?! D curls are great to open up those eyes. We recommend that you don't use D curl lashes on someone that has deep-set eyes, as it may be harder to see the lash extensions in that case. If your client wants to look like a real-life baby doll, D curl lashes are for you!
L+ curl lashes are beautiful and sort of intimidating for lash artists. They're perfect for those clients with straight natural lashes. Using an L+ curl lash on someone with straight natural lashes will result in a great base attachment, which will in turn result in better retention. L+ curls have the beautiful curl of a CC lash, so they still will give a nice curl. This is ideal for clients with deep set-eyes, so that those lash extensions can come out from under that brow bone and be seen. 
M curl lashes have a beautiful bend that move upward. M curl lashes give a lift, with a soft curl-up! 
 Which of these lash curls are best for your client's desired look? Remember that all curls can be mixed with each other. That's where the real artistry comes in. Plus, each curl will look different on different eyes. 
 Shop all of our favorite lashes at EBL Lashes, and consider additional training so you can sharpen your skills. Never stop learning, growing, or beautifying the world!
Leave a comment
Comments will be approved before showing up.