Are You Looking For a Career in Eyelash Extensions?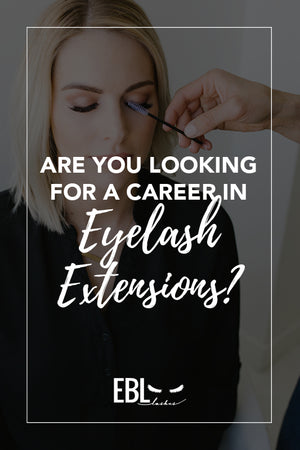 I hope your spring is full of renewal and zest and new and exciting things. I recently posted on my Facebook page one of the reasons why I became an eyelash extension artist.
You see, I worked on hair before I chose the eyelash path. And while doing hair was fun, it was also more unpredictable as to how people would respond to their new haircut or color. With lashes though, everyone felt beautiful from the moment they opened their eyes! It didn't take "getting used to", so it was like magic. I became addicted and the rest is history.
For those of you who are contemplating getting into the lash path, there are some things you should make a priority when considering your training with a reputable company. Not every trainer is of the same caliber, especially when you are looking at content and quality. When you are making this investment leap, you want to make sure you are getting the best quality you can afford, since you are investing both time and energy..
Things to consider when looking for the best training courses:
1 How long has your instructor been working in the beauty industry? How long have they been actually doing eyelash extensions? You want an experienced teacher to show you all the ins and outs involved while having fully mastered the techniques.
2 Have you seen the teacher's portfolio? Are you impressed with their work? A consistent turnout of quality work is crucial when choosing your trainer.
3 What have you heard from former students of your trainer? Are there reviews you can check out? Have you scoped out their social media pages to see what students are saying? The more informed you are, the better your choice!
4 Do you know what kind of products are used in the training? Are they reliable, quality products? If a trainer is providing professional products, you can be sure they have an incentive to provide quality service as well.
EBL Lashes is committed to providing quality in every aspect of our business. Whether it's quality products for our clients or quality training for new lash artists, our goal is to provide simply the best.
Check out our trainings here https://extensionsbylindy.com/collections/classic-coursesOur in-person and online eyelash training courses have been preparing students for a lifelong career doing something they love. To find out more, you can reach out to us at extensionsbylindy@gmail.com.
Leave a comment
Comments will be approved before showing up.