Choose the Best Lash Extension Length and Curl for Your Client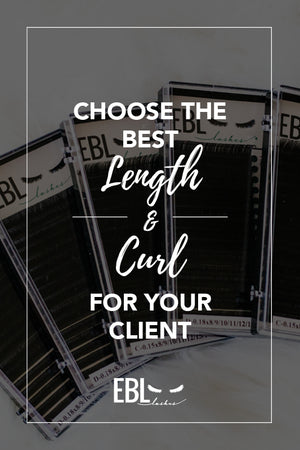 When it comes to your client's eyelashes, choosing the right lash extension length and curl for them is very important. You want to be meeting your client's specifications, but also educate them on what may be best for them. You want to make sure they are getting the desired look while maintaining something safe and manageable for them.
It can be difficult to determine which lash extension length and curl best suits them, but if you listen to your client and trust your learned skillsets, you will be able to find the right fit. Some things to keep in mind when choosing the length is how long are their natural lashes, if they use mascara, and the thickness of lashes desired.
If your client wears mascara, ask them whether they wear more than 2 layers of mascara. If they wear less, then suggest a more natural, thin diameter. Otherwise, go for a thicker diameter if they prefer a more dramatic, thick look. When choosing the thickness of their extensions, be sure they're natural lash can support it.
For the best curl for eyelash extensions, we provide a variety of choices. Our lash extension curl options include:
B curl: Very natural curl, giving the look of a natural uncurled eyelash.

C curl: The most commonly used curl, it creates attractive lashes as if they were curled with an eyelash curler.

CC curl: The perfect in between curl, it gives you the perfect curl between C and D curls.

D curl: Creates doll-like lashes for a more dramatic look. D curl can create lift in places that are needed.

L+ curl: Straight-based lash that aligns with the natural lash then goes into a curl similar to CC. 
To get more information or training about lash extension length and curl or choosing the right lash extensions for your client, please contact or email Extensions by Lindy at www.extensionsbylindy.com to get the best information and care. Our team will be happy to assist you so you can give your clients the care they need and want.
Leave a comment
Comments will be approved before showing up.