How Long Does Eyelash Glue Last?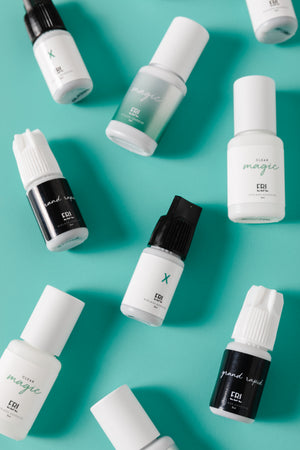 It is important to understand when you need to replace your eyelash extension glue. Your glue is your most important product aside from of course the lashes. Using a glue that is "old" or has been opened for too long can affect your retention, in a bad way! 
Once your adhesive is opened we recommend to purchase a new adhesive every 6 weeks. If you are using your glue every day and opening and closing it multiple times a day you may need to purchase a new one a few days to a week sooner. The more you open your lash glue the more you are letting air and moisture into it which can weaken the adhesive. 
When you purchase your glue if you are purchasing one to use and one to store we recommend to not store the unopened one for longer than 4 months. When you are storing the unopened one it can be stored in the fridge. Never store your adhesive in the freezer, and once it is opened you do not need to store it in the fridge. If you are a solo lash artist it is not recommend to purchase more than one back up at a time, simply because you cannot control the environment the glue is stored at.
It is a great idea to date your glue bottle when you open it, this will help you keep track of when to replace it. Get in the habit of making a lash order every 4-6 weeks and restocking your inventory. This will help keep you in stock of all the most used items, and be ready fro your clients!
Leave a comment
Comments will be approved before showing up.