The Best Adhesives for Lash Extensions in 2022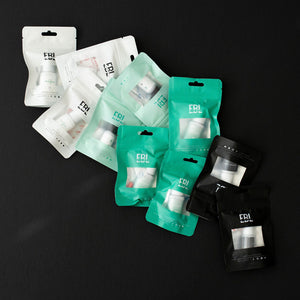 EBL has a few high-quality adhesives to choose from. They are all slightly different depending on what you need from your adhesive, but all are equally excellent at delivering great results. We know that adhesives nowadays are becoming more and more advanced in their quality and performance. Because of this, we want to share which adhesive would be best for you in 2022!

First up is our X Adhesive. This is a great beginner adhesive. It has a more forgiving drying time of 2-3 seconds. This allows a beginner (who may not be quick) to have time to get that lash extension right where you want it. This adhesive is best used for Classic Lash Extensions. 
Our Magic adhesive comes in two colors. Clear Magic is great if you are doing some fun-colored lash sets. Clear adhesive is sometimes preferred over black since it does have one less ingredient. Then we have Magic in the black color. Magic adhesives are 1-2 second dry time. They are great to be used for Classic or Volume which is great! 
Grand Rapid is our best-selling adhesive. It is known for its very quick dry time. We recommend this adhesive to advanced artists only. If you are just starting out this may dry too quick for you resulting in lashes that just pop up. This adhesive can be used for Classic and Volume lashes as well.
It is important to choose an adhesive that the drying time is within your range. The most important thing to remember about adhesive is that it cures by moisture. So, although they each have their own dry time, if they are being used in a place with higher humidity they will dry quicker.
For more information on this topic, visit our professional eyelash adhesives page on our website. We're here to help!
Leave a comment
Comments will be approved before showing up.