How to Remove Eyelash Extensions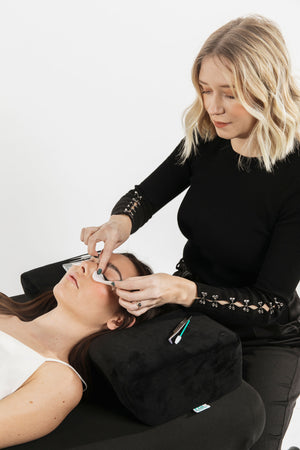 We want to share step by step instructions with you on how to remove eyelash extensions! You're a year into your lashing career you have never removed a set and now you have your first removal? But wait you can't remember what you learned in your course. Here is a removal refresher for you! 
There are a few instances where removal is appropriate. If your client is unhappy with the set that you have put on they may want them removed. If your client is taking a break they may want them removed. We do not recommend using remover on 1-2 lashes while you are trying to complete a set/fill. Doing so can get remover on unwanted lashes and cause the set to not last as long.
First stay calm, removals are easier than you think. We recommend removing only lashes that you have put on. This is just a precautionary to take. It can be challenging removing work that is not yours and you do not want to be liable for someone else's application. Before you start you will need a few products: eye pads, remover, and micro swabs. 
How to Remove professional eyelash extensions:
1. Sanitize hands.
2. Apply eye pads to protect skin from remover.
3. Apply a dot of remover on the micro swab.
4. Gently rub the base of lash with remover until glue weakens and the lash falls off.
5. Remove in sections. Once all lashes are removed, wipe with a baby wipe or wet washcloth.
We have included a YouTube video tutorial as well here.
We hope this has helped refresh you for your next removal! For more information visit our website www.ebllashes.com
*These instrucitons are for professional lash artists. Please do not attmept this at home on your own. Make sure that your clients eyes remain closed the entire time. If remover gets in the eye(s) it can cause somoe irritation. 
Leave a comment
Comments will be approved before showing up.