4 Must Haves In Your Lash Space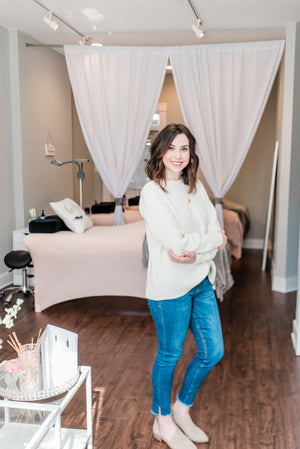 Thinking about upgrading your lash space? Our Virginia Trainer Sam at Curly Willow Spa has a welcoming comfortable space for her clients. We thought we would share some of them with you! 
This grey plush couch is the perfect place for clients to wait while waiting for their appointment! It looks cute, cozy, and comfy! 
Drinks are always a plus for clients. It is an added luxury, and as eyelash extensions are a luxury service we think its a perfect addition! Although we do want to make note to have them make their coffee or drink caffeinated drinks after the appointment so they do not have lashes that are fluttering. We all know fluttering lashes are hard to lash. 
Cute decor is definitely a must! A letter board is a great way to inform clients of little details or just say hi! Plants help to add greenery and some life to your space. We love how she added them to her a windowsill making this area so cute. 
Lastly, but definitely not least, have a comfortable bed. When your clients have to lay down for a long period of time it is important from them to be comfortable and be in a clean space. Adding plush blankets and foam toppings underneath make for an extra cozy bed your clients are sure to appreciate! 
Having a cute space to work in is a plus for the client and yourself. These little things added to your studio are sure to show them you appreciate them and make them feel taken care of. After all we are here to take care of them. 
Leave a comment
Comments will be approved before showing up.