How To Take Care of Lash Extensions in the Shower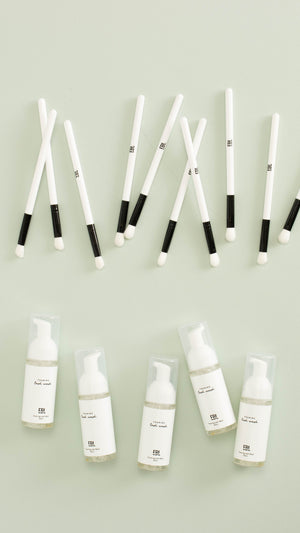 There used to be a myth that you should not get your eyelash extensions wet. Some people used to go as far as wearing goggles in the shower in the hopes that it would make their lash extensions last longer.
Well, we're here to tell you that you should wash your lash extensions. Washing your lash extensions will actually help them last longer. Here's how to shower with eyelash extensions the right way.
When showering with lash extensions, don't let the shower stream directly hit your lashes. Something like that can be too abrasive for your lash extensions. It is best to wash them gently. The best things to wash your lash extensions with are an eyelash cleanser and an eyelash cleansing brush. Use one pump of your cleanser and gently brush through those lash extensions to remove any dirt, makeup buildup, and oil. When rinsing the cleanser, we recommend splashing water on your eyes.
Just like it is important to stay out of saunas and steam rooms, don't make your shower into a steam room. You want to avoid long periods of time in a steamy shower. A hot shower can break down the adhesive and make your lash extensions not last as long.
When you get out of the shower, let's talk about drying those lash extensions. You do not want to rub them. For the best retention, gently pat them dry. Then, gently brush them down to fluff them up.
It is best to wash lash extensions daily. It is also in your lashes' best interest to avoid oils around your face in order to prevent weakening your extensions.
At EBL, we want to make sure you're confident when showering with lash extensions. For the best care, check out our products to ensure your lashes can withstand any shower and prove those rumors wrong.
Leave a comment
Comments will be approved before showing up.