How to Take Great Photos Of Lash Extensions for Your Studio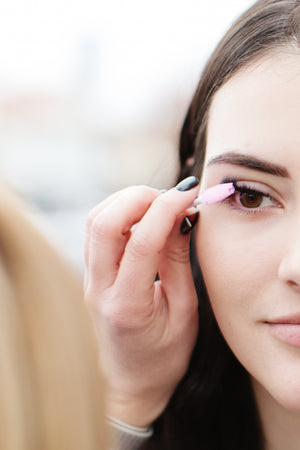 There is no better way to advertise your lash work than to have pictures to show! I want to share a few ways you can take them plus present them to your clients and future clients. Clients want to see your work, that will help persuade them to get them. The difference that lashes can make for your overall look is so uplifting, pictures will help seal the deal. 
First thing you will need is a good camera. There are many options for a camera, what you choose will depend on your budget. We would recommend though to budget for one and to make it a priority to actually use it. Photos are so important in the service industry that we are in.  Using an iPhone camera has worked for many lash artists and works fine. If you want to get into a better camera a digital camera can be a great option! If you are using these photos for Instagram and printing and of these will work great!
Lighting is also key to a successful photo. If you can use natural light that will be best. When a window is present have the light from the window be shining toward their face, we want to minimize shadows. If no natural light or windows are available using a ring light or a photoshoot specific light can work well also! You can always adjust lighting later with a simple filter. You want to be able to clearly see your work and not have a dark photo though. 
Okay let's talk backdrops! I always recommend to have a clean background. If your client is laying down have the area around be clean. Make sure that their lashes are brushed and looking good. If you client is standing up purchase a simple white poster board to put behind them, or have a neutral colored wall that you can use. The less back ground noise in the photo the better!
When taking your photos schedule an extra five minutes for them. Get all thee angles sides, front, full face, half face, from below, from above, etc. Take 20+ photos of every client, you can use them overtime! 
Taking our own photos is great, but getting a professional one to two times a year is always a good idea. Plan with a photographer and Get all angles, side, front, from below, both eyes, one eye etc. These photos will be great for your website and to also enlarge for your walls to display!
We hope this helps encourage you to take photos of your work and to show them off! Don't forget to also stop by and shop our lash products, when using our products and posting on social media tag us @ebllashes! 
Leave a comment
Comments will be approved before showing up.