Lash Station Set Up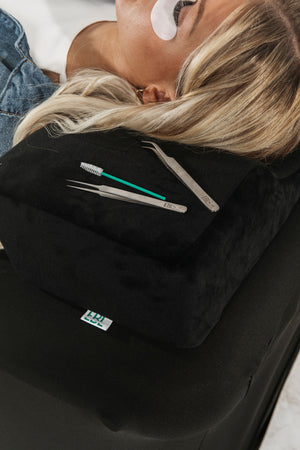 What is your lash station equipped with? Having a stocked station as well as organized can help your appointment run smoother. There are some essentials that you will want to make sure you have. Lashes come in all shapes and sizes, well diameters and curls we will break them down and decide what you need!
Let's talk about your disposable products! These are the small these you need no matter what the look your client would like. Eye pads, mascara wands, tape, micro swabs those are products you will use just one time per person! We want to keep things sanitary and in order to do so we need new ones of those for each client! These are items that we recommend to have many of so that you are not running out and scrambling! I mean you definitely can not do a set without tape or eye pads. 
Next up Adhesive, remember this rule one for now one for later. Always have an adhesive open and one in your back stock. What if you accidentally mis placed it? Again, you would not be able to perform your service without it. 
Alright let's go over the lashes you need. In the start of your career you do not need every curl in every diameter. The most common curls for eyelash extensions are C, CC, and D Curl. CC is a great starter curl. The .15 diameter is the most common diameter to start with and you will want it in all lengths. It is a great idea to start with mixed trays. As your clientele grows and as you start to lash more clients I would recommend to refill your stock with single length trays. CC Curl will probably be your ride or die through your career. L+ and M Curl are speciality curls. They are very fun to play with and look good on many eye shapes, but I recommend exploring those curls once you are used to the basics.
Many lash artist keep their stock in organized dressers or cabinets of some kind, many with a rolling station right next to them! As your business grows your lash cart will grow as well. Make sure to have back ups of all the important things! 
Leave a comment
Comments will be approved before showing up.