Meet our Texas Lash Educator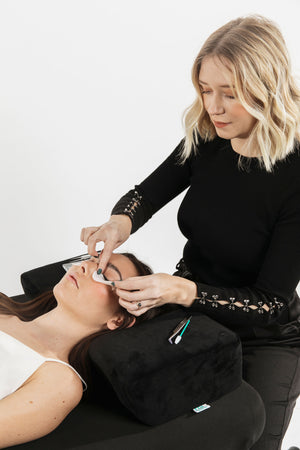 Kristin is the EBL trainer for Texas. As well as lashing and training she is the owner and operator of Lash Krush. She lives in Austin, Texas with her family. Aside from lashing she loves karaoke, baking and true crime! Kristin is a true artist when it comes to eyelash extensions. Her expertise in her career is what brought EBL to recruit her to be a trainer! Let's get to know her a little bit more. 
Her top 3 EBL products!
 The lashes! Everyone knows EBL Lashes are THE best.
 Magic Adhesive, it's versatile in low and high humidity.
202 Straight Colored Tweezers, they are lightweight and come in the cutest colors!
We asked her some questions and here is what she said:
What advice would you give someone who wants to become a successful artist?
Success in Lashes or any other business is all about how much of yourself and your time you invest. Business wise you have to be willing to stay late, work hard and do anything it takes to build your clientele.
Once you have established yourself through hard work then you can create your dream schedule and lifestyle. Artistically becoming a good lasher takes lots of practice and taking courses that will help grow your skills. Make lash friends so you always have support, it can get lonely! Believe in yourself and don't sweat the small stuff, enjoy your lash journey!
Favorite lash pro tip?
No matter what style or kind of lashes you are doing always make sure the work is clean. Isolate and lash like your favorite lasher will be checking your work! 
We hope you get to take a training with one of our trainings this year! For Training dates and information check out our
website.
Leave a comment
Comments will be approved before showing up.