3 Reasons to Purchase Your Lash Extensions at Wholesale Price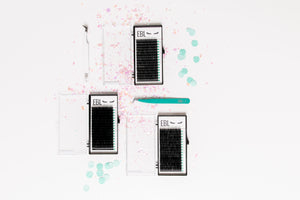 Have you have been doing lashes for some time now and want to purchase in bulk? Once you find a brand you LOVE (aka EBL Lashes)  we say do it! EBL offers wholesale pricing for lash artists that want to purchase in bulk and save some money! After all more money in your pocket is never a bad thing right? Here are 3 reasons you should purchase in bulk! 
1. Purchasing in bulk helps you be prepared! 
We recommend every 4-6 weeks to take an inventory of what you have and what you need. It is never a good day when you go for some eye pads and you notice you are all out! Or you used your lash D .07 13mm strip and you also need them for your next client! Ordering in bulk helps to keep your most used items in stock in your inventory!
2. Ordering in bulk actually saves time! 
You are eliminating the need for frequent unnecessary orders. Keeping a schedule and plan on inventory frees up more time for you to do what you love!
3. Of course the number one reason to order in bulk is to save money!
The first perk of ordering in bulk that is offered to everyone is at EBL we offer FREE shipping over orders of $200. We want to help you where we can, when you order $500 or more we offer you a discount. Email us for more info on price structuring and to find out what we can offer you!  You can reach us for wholesale pricing at hello@ebllashes.com. 
Check us out at www.ebllashes.com
Find us on Instagram @ebllashes
Leave a comment
Comments will be approved before showing up.