Take Inventory Consistently as a Lash Artist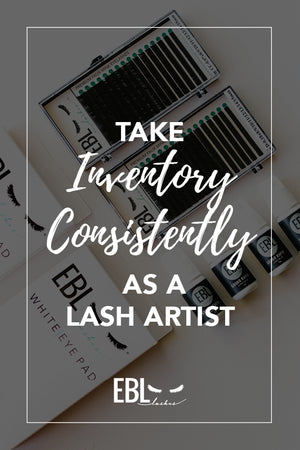 Keeping track of your inventory can either make or break you. This includes all your eyelash extensions, adhesives, removers, sealants, swabs, and more. Have you ever been in a situation where you have used your very last 12mm lash and there is no more? What is the solution? You could use an 11mm or switch to a C curl extension and hope they don't notice. The odds will be your client will notice a difference.
Now is the time to be prepared. Our best recommendation for you is to go through your inventory every 2 to 4 weeks, depending on the extent of your business and clients. Write down all the trays you have 2 to 3 strips left, and order those ones to ensure you don't run out of lashes.
Tweezers are essential in eyelash extension applications, so be sure to keep an extra set of tweezers on hand, incase you drop them! Another couple pairs are handy to have on hand when your other ones are being cleaned.
Keep a thorough record of how many clients you do a month. This way you can keep track of how many products you go through, such as mascara wands, micro swabs, eye pads, adhesive, and more. That way you can order an average amount of how many you need for that next month. If you happen to have extra, it's better to have more than run out in the middle of a session.
By planning your month's clients and product inventory, you can prepare for their next sessions and new clients as a better prepped lash artist! As the great Alexander Graham Bell said, "Before anything else, preparation is the key to success." To get more products, order online or contact us at www.extensionsbylindy.com. If you have any questions, feel free to email us at extensionsbylindy@gmail.com.
Leave a comment
Comments will be approved before showing up.