Why EBL Lashes are Award Wining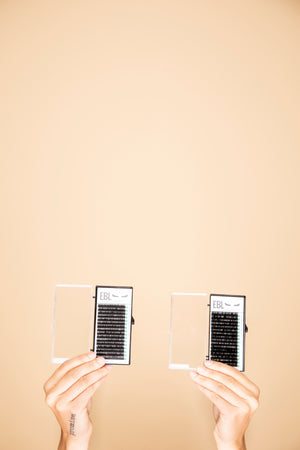 EBL Lashes are world-renowned award-winning for many reasons. They are known and trusted by lash artists around the world. As a lash artist, you need eyelash supplies that are reliable, consistent, and high quality, which is where we come in. Customers appreciate our lash extensions for many reasons. It is important to use high-quality products on our clients to give them the best experience we can!
After years of perfecting our eyelash extensions, they are here to stay! EBL can be found stocked in many lash artists studios around the globe for more reasons than one! EBL Lashes are very soft, providing comfort and luxuriousness to the client. Have you ever experienced crunchy or stiff eyelashes? Don't worry that's not the case with EBL. We wanted ours to be soft to the touch. The lashes are a true dark black, which help provide a dark bold look. The curl is consistent and won't relax over time. I am sure if you have tried a few brands you have experienced one that has lost their curl, that's not normal, and you won't have that problem with EBL. We have a 2-year shelf life. Yes, you read that right.  Because of our manufacturing process and the high quality of products used in the process the curl is there to stay! The lashes are very flexible also providing extra comfort to the client. 
How is the pick up from the strip? Many volume lash artists have said our lashes "fan like butter." As for classic lashes its an ease for pick up as well. It is so important to have products that work with you, to improve your speed and life as an artist. 
We are honored to have been recognized for our eyelash extensions by not one but two times in 2019, so far ;). Recent awards EBL Lashes have won are ASCP Skin Deep Editor's Pick Award! We were voted by lash artist and won! EBL also received an award from LNE SPA'S Best Products for best lash extensions. 
If you haven't tried them yet we would love you to give them a try, we promise they will not disappoint! Shop the best eyelash extensions here! 
Leave a comment
Comments will be approved before showing up.