What are Volume Lashes?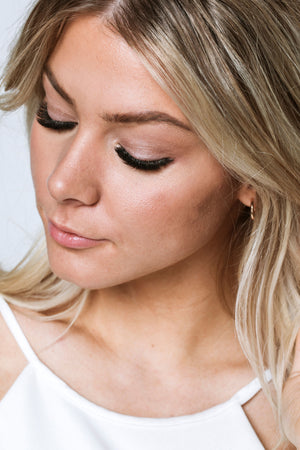 Volume lash extensions came to America in 2013 and took the eyelash industry by storm! People were shocked, amazed, and jaw-dropped by what volume lashes could do for us. Because of volume lashes, even sparse lashes lines can have lash extensions, and full lashes can we made fuller. The options for lash extensions are now endless with volume lashes. 
Volume lashes are the art of fanning and picking up multiple lightweight extensions at a time. Yes, you heard that right. When you pick up multiple lashes you create a fan. You can then place that fan with MULTIPLE extensions onto one natural lash. For classic lashes we were only able to add one lash extension to one natural lash. With volume lashes, it's possible to add over 200 lash extensions per eye! When you're ready, be sure to read our tips for perfecting your volume fans.
For volume lashes you will not use the same lashes or tweezers as you would for classic. The weight of the eyelash extension needs to be a lot less—that's why you are able to add more than one lash extension to a natural lash. Above all, do not use your classic lashes for volume lash application. Using multiple classic lashes can cause damage to the natural lash by putting something on that is too heavy for the natural lash.
What are the best volume tweezers? A popular diameter to start with for volume is .07. We also recommend using a boot-style tweezer. Our 207 and 208 tweezers are most popular for volume. Volume lash fans can be made with the following diameters: .07, .06, .05, and .03.
Clients have fallen in love with the look and feel of volume eyelashes. It can be a natural or dramatic look, depending on how big you make that fan. Volume is known to be soft and weightless! 
You can see volume lashes described as a "D":
2D = 2 extensions per natural lash 
3D = 3 extensions per natural lash
4D = 4 extensions per natural lash 
5D = 5 extensions per natural lash 
...and so on. 
The most commonly made fan for volume is 3-6 lash extensions. Are volume lashes damaging? Not at all—just remember to keep in mind the health of the client's natural lashes. To find out more and how to do volume lashes join us in a course! We offer courses on Volume Lashes both in-person and online.
Leave a comment
Comments will be approved before showing up.